On Monday 30th January, Marc performed some of his John Denver 'tribute show' at the Sunday World Country Music Awards & won the 2012 Award for Theatre Show of the Year!! Last year he was awarded the title of 'Solo Artist of the Year 2010' at a glittering award ceremony in the same venue Mullingar Park Hotel. It was a huge event featuring all the top Irish performers.
We're really looking forward to catching up with you at this award winning show.
Click here for confirmed dates for the tour.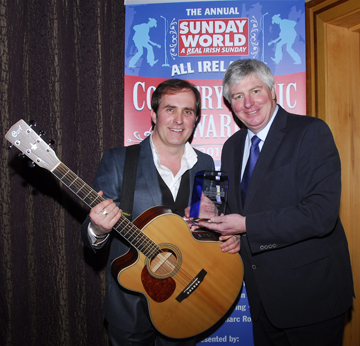 Marc being presented with the 'Theatre Show of the Year 2012' Sunday World Award by RTE's Michael Lester.