Marc recently co produced, with Eugene Kelly, the first album from a relatively new name in the entertainment business. Denise Brennan's first album "Sailing with the Wind" is a stunning collection of original songs entertwined with some standards.

Denise has appeared as a soloist in the hugely successful "Riverdance". She has a passion for singing all kinds of music particularly Irish ballads, Crossover, Classical favourites and Musical Theatre. However she is as equally at home song writing, singing and performing original material.

Denise found a friend and mentor in the late Christy Hennessy whom she performed. Their favourite song to do together was, 'If You Were To Fall', a song which she has recorded for her album, 'Sailing With The Wind.'

I can honestly say her voice is beautifully honest & pure & her own songs sit perfectly with the other songs on the album.


You can buy the album directly from Denise from her website.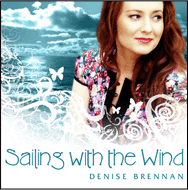 To listen to tracks from 'Sailing with the Wind' visit www.myspace.com/denisebrennan